Only 1,700 in print!
Signed by the author
Copies are numbered.
Includes the prequel: MEG: Origins
This book will ship in late May-early June.
* Proceeds help support the Adopt-an-Author teen reading program
Get your Signed copy of UNDISCLOSED (A Novel): Regularly $27.95… ON SALE for $12.95

This website is dedicated to my readers, to whom I owe my career. I take your patronage very seriously, which is why I pay attention to every detail when crafting a novel, from the story line and research to the interior and exterior artwork. I want you to feel a part of the work as well. If you Sign Up for my FREE Monthly Newsletter, you'll receive the inside track on movie updates and contests to become a character in the next Steve Alten novel, as well as living tips and entertaining info guaranteed to put a smile on your face. While I'm on Facebook and Twitter, the best way to reach me and get a personal response is via e-mail at Meg82159@aol.com
With heartfelt appreciation,
Steve Alten
MEG 20th Anniversary SPECIAL MOVIE POSTER EDITION!
Only 1,700 in print!
Signed by the author
Copies are numbered.
Includes the prequel: MEG: Origins
This book will ship in late May-early June.
MEG: Generations
Pre-Sale February 1st thru April 22, 2018
The first 100 orders will receive a special bonus.
The MEG: Generations 1st edition hardback will NOT be sold in stores or on Amazon, it must be pre-ordered Feb. 1st thru April 22, 2018.
Pre-ordered books will be shipped in the month of May 2018.
MEG Poster Set
000010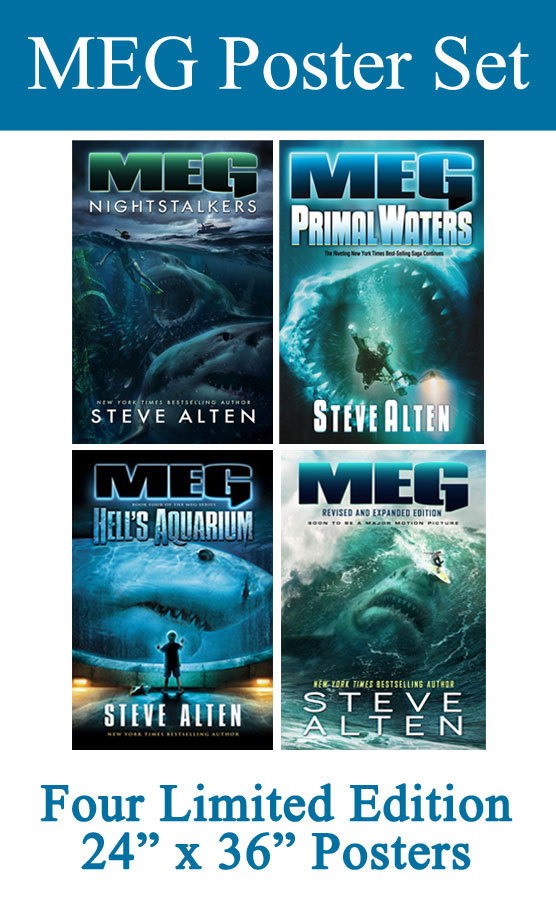 All 4 MEG Covers (MEG Surfer, Primal Water, Hell's Aquarium & Nightstalkers)
Please allow 4-6 weeks for delivery.