MEG: PURGATORY
If you read MEG 6: Generations then you know that the series will end with MEG-7: Purgatory. My publisher, Tor/Forge will print & distribute hardbacks in the summer of 2023 when MEG-2: The TRENCH hits theaters. Because of the rise in paper costs, these books will be bare bones; i.e. no maps, interior artwork, or the extras that usually come with a Steve Alten novel.
That is NOT what I envisioned for the last and potentially BEST novel in the most important series of books I have written – a series that finally hit the big screen after a 20 year wait – a series that remains the driving force in my 501C-3 non-profit teen reading program, Adopt-an-Author (22 years and still going strong), helping reluctant readers like many of you were back in high school to read. No sir, the MEG series deserves a far bigger and better send-off AND SO DO MY MEGheads, my most loyal and appreciated readers – without whom I would have no career. If you were one of the lucky fans who managed to pre-order the MEG: Generations limited edition hardback (A & M Publishing) then you know how an Alten novel should look. You also know that these 4,325 hardbacks are now selling for $150 to $300+ each IF you can find a reader who wants to sell.
MEG: Purgatory Collector's Limited Edition Package
To be published by A & M Publishing, the MP: CLEP will not be sold in stores or on Amazon.com; it must be pre-ordered from one of my websites NOW until the day (to be announced) when the final manuscript is sent to the printers. There will only be one print run.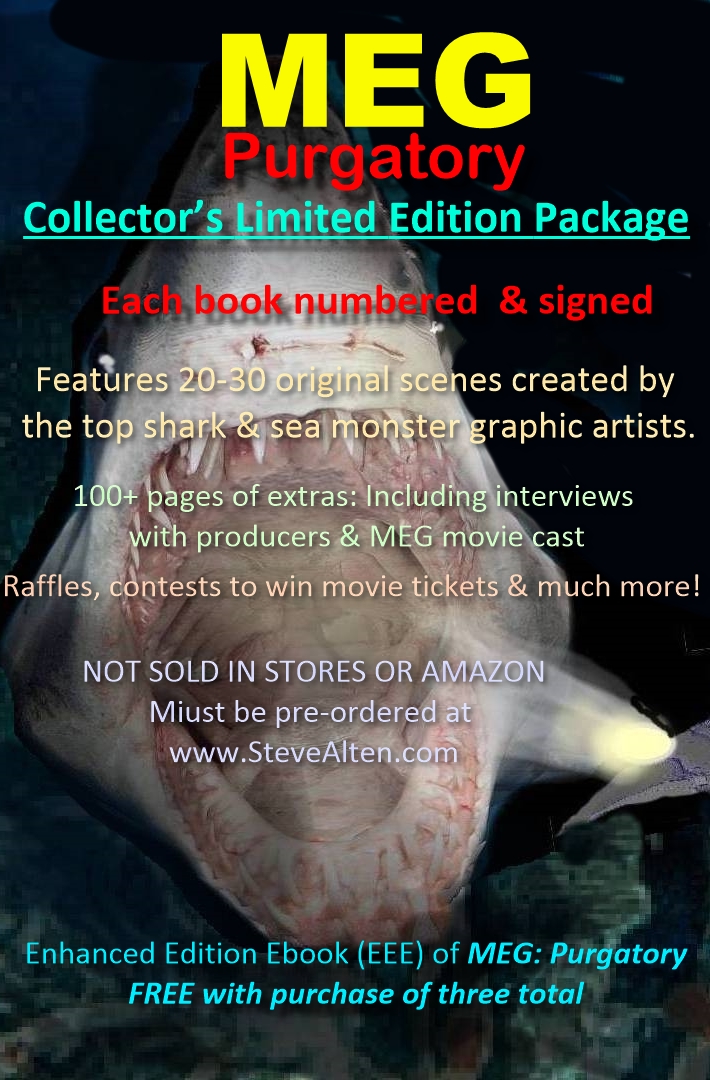 The link above will take you off SteveAlten.com to our store at TheSteveAltenProject.com.